About McKillop Library
McKillop library opened its doors in March, 1991, with 70,000 square feet of floor space and a spacious, comfortable atmosphere. The library holds approximately 150,000 volumes. There's plenty of room for individual and group study. There are more than 100 computers in the library available for research. We have wireless access available throughout the library. There is an electronic classroom for instructional purposes.

The library is named in honor of Dr. Lucille McKillop, R.S.M., who was the fifth president of Salve Regina and the longest-serving president in university history (1973-1994). During her 21 years as president, Sister Lucille led the university through a critical period marked by challenges in finances, enrollment, academic offerings and direction. The university trustees named the building after Sister Lucille "as a lasting commemoration of [her] educational leadership."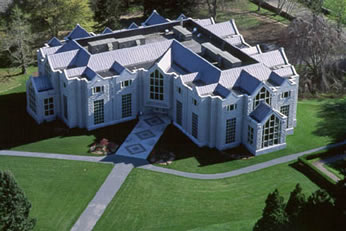 The architectural firm of
Robinson Green Beretta
designed the library to reflect and conform to the surrounding historical buildings. It borrows its style from the neighboring Gothic style Wakehurst Mansion to the north and the Louis XII French Chateau style of nearby Ochre Court. The rock-face granite facade and lead coated copper roof echo turn-of-the-century design prevalent in buildings in the Ochre Point area.