WHAT'S NEW - Archives

September 2002 - December 2002
12/17/02
Alternative Press Index Archive



A new index has been added to FirstSearch. The Alternative Press Index Archive indexes journals from 1969-1990. This increases the coverage of Alternative Press Index which indexes journals covering cultural, economic, political and social change. This index is highly recommended comprehensive guide to alternative sources of information. Coverage is international and interdisciplinary. View the New Databases pages for a listing of the library's latest acquired databases.
11/14/02
Increased Internet Access in the Library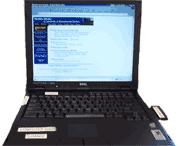 Access to the Salve Regina University Campus Network is now available in selected study areas on the Library's third Floor and in all of the library's Study Rooms. The study tables along the outside walls of the library's third floor now have access to the campus's network. In addition, all of the library's study rooms on the second and third floors have connections.
Anyone with a laptop containing an Ethernet card can connect to the Internet using the campus network by plugging into an Ethernet port in these locations. Now you can work in the library with your own personal computer and be connected to the Internet. Please bring your own cable with you, as we only have a limited number to lend out. Instructions are posted at each access port. For additional information contact Olga Verbeek at 341-2281.
10/15/02
Language and Literature Collection from JSTOR



The McKillop Library has recently added more full-text journals to its JSTOR database. The Language & Literature Collection is a compendium of 47 journal titles that span the literary cultures of many nations. Developed in conjunction with the Modern Language Association through a grant from the Andrew W. Mellon Foundation, the Language & Literature Collection offers insight into linguistics; comparative literature; and literary history, theory, analysis, and scholarship. It also includes core journals in the newer fields of literary criticism that have emerged over the past 30 years. In addition to English, the Language & Literature Collection includes articles in languages such as Arabic, Italian, and Russian. A complete list of titles is available at http://www.jstor.org/about/langlit.list.html.
10/09/02
InRhode Borrow Books from Brown
The InRhode Library Catalog combines the library resources of nine academic institutions into a single unified database. Providing access to over 4.1 million volumes, the InRhode Library Catalog combines the resources of Brown University's Library Catalog, JOSIAH, with those of the HELIN Consortium's Library Catalog, HELIN.
Students, faculty and staff from any of the nine HELIN libraries, may borrow books online with a valid library barcode.
The InRhode Catalog is accessible from either the HELIN Library Catalog or Brown's JOSIAH Library Catalog. After performing a search on either HELIN or JOSIAH, the user can click on an InRhode button to replicate their search in the InRhode Catalog. Return to Home button in InRhode will return the user to their home catalog. Sign up for a workshop to learn how easy it is to borrow books from Brown.
10/01/02
Live Reference!



Forget Jeeves! Ask a HELIN Librarian!
Can't find the answer on the World Wide Web? Can't locate sources for your research paper? Need a librarian in a hurry? AskHELIN is your answer.
AskHELIN is a new virtual reference service pilot project offered by the HELIN Library Consortium. Building on HELIN's long tradition of collaboration and resource sharing, librarians at eight of the HELIN libraries are offering the Rhode Island academic community real-time, online, reference. Faculty, students, and staff at any of the HELIN universities and colleges may ask questions via the Internet and a librarian will be available to answer instantly. Try it!
9/19/02
New Databases - Fall 2002
The New York Times Historical Newspaper File
This database from ProQuest offers full-text and full-image articles of the New York Times dating back to the 19th century. In most cases, the collection includes digital reproductions of every page from every issue--cover to cover, from 1851 through 1999.
Other new databases purchased over the summer break are: For descriptions of all the electronic databases available at the McKillop Library, check our Database page that includes a breakdown of databases alphabetically and by subject area.
9/19/02
Easy Off-Campus Access to Databases
For those of you who use electronic databases off-campus or plan to do so, there is good news. No longer are you required to set up your web browser for proxy access. The new HELIN proxy server is set up to automatically configure your browser to allow access to all of the online McKillop Library databases. The only requirement for off-campus access to databases will be to enter your name and library barcode number (14 digit number on your Salve card) when prompted by the server. There are two ways of gaining access from off-campus: The Two Options