Fines, Billing, and Overdues
Notices are sent when books are overdue. Salve does not charge fines. However, if a patron receives a
third notice
this should be considered a
bill for the material
.
FIRST NOTICE: sent seven days after due date of material not returned.

SECOND NOTICE: sent fourteen days after the first notice

THIRD NOTICE (BILL): mailed seven days after the second notice. This is a bill.

RATES FOR BILLED SALVE MATERIAL:

Book - $50
Oversize book - $90
Video/DVD - $50
Cassette - $50


(Rates for billed material from other HELIN libraries vary, but may be as high as $100 per item.)
Bills
may be paid at the Business Office. Bills are expunged if material is returned to the library within a reasonable time period. Patrons are not reimbursed if they find their library materials after paying bills.
All bills must be paid before students can access their transcripts or receive their diploma. In addition, unpaid bills will sanction patron's use of other HELIN Institutions.
Some institutions within the HELIN Consortium do charge fines for overdue material. Salve cannot collect fines for institutions that do charge fines.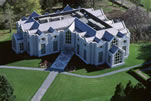 Circulation Desk:
401-341-2291

Information for:
First year students
Graduate students
Faculty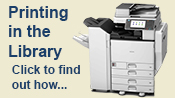 New Arrivals
New databases