How to acquire items that are currently checked out
What do you do if the item you need is currently checked out to another patron and isn't due back for some time?
Here are available options for obtaining the item:
Check to see if another library in the HELIN consortium has the same item. If they do, put in a request for that item. In most cases, you will have the item within 48 hours.


Place a hold on the item that is currently out by doing the same as the above; that is, make a request for the same item. By making a request on the item that is out you automatically place a hold on that item. When it is returned to the library, the computer will block any other patron who tries to take it out. Also, by placing a hold on an item you prevent a renewal of the item by the patron who currently has the item and, in some cases, the hold will shorten the time period allowed to that patron so that it will be returned to the library sooner than the original due date. When the item is returned, you will then be notified by e-mail that the item is available.


If the item that you need is going to be out to another patron for a long time and you don't mind waiting for up to 10 days, you can place an Inter-Library Loan on the item.


If all of the above options are unsuitable to you, then you can ask a supervisor in the Circulation Department to place a recall on the item that you need. When a recall is placed, the patron who has the item is informed that someone else needs the item as soon as possible and the library is requesting that the item be returned immediately. With this option, patrons should be aware that a recall does not guarantee an item will be returned immediately.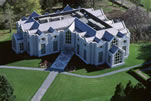 Circulation Desk:
401-341-2291

Information for:
First year students
Graduate students
Faculty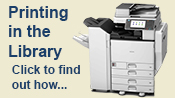 New Arrivals
New databases