McKillop Library has four study rooms available: two on the second floor (Rooms 204 and 217), and two on the third floor (Rooms 306 and 317).
Students may reserve these rooms ONLINE.
Study rooms can be booked for a maximum of 3 consecutive hours.
If a study room is not reserved, then it is available on a first-come-first-served basis. However, we will give priority to groups of three or more people.
Reserved - Study rooms (204 & 217) can be reserved by faculty/staff Mon - Fri. 8am - 1pm only by calling the information desk at 341-2289. During the 24-hour periods, the rooms are for student-use only.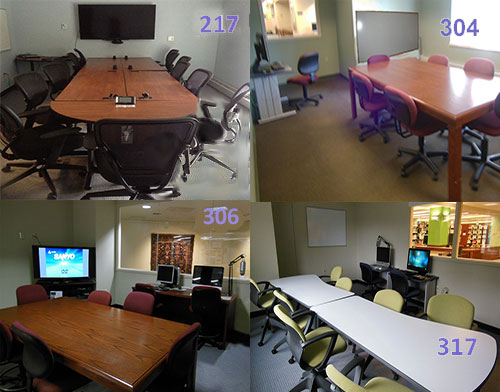 Room 204:
60" flat screen display with Cable TV access
Connections for various devices/laptops for projection onto the display
Touch-screen control panel
Conference-style table (seats 11)
Dedicated PC with wireless keyboard/mouse (attached to monitor)
iMac computer with USB microphone
Dry-erase board(non-magnetic)
Room 217 includes:
Conference-style table (seats 17)
Dry-erase* board (magnetic)
Room 306 includes:
46" plasma display with dedicated PC, wireless keyboard and mouse, laptop connection cables, Cable TV access, VCR/DVD player
Desktop PC computer
iMac computer with USB microphone
Television with DVD/VCR player
Dry-erase* board (magnetic)
Room 317 includes:
Desktop PC computer
One iMac computer with USB Microphone
Moveable tables and chairs
Dry-erase* board (non-magnetic)
*Dry-erase marker sets are available for checkout at the 1st FL Circulation desk.
Need more help?
Ask a librarian
at 401-341-2289.