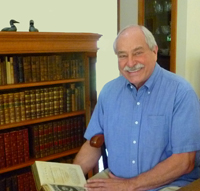 Dr. Oren W. Davis
Old & Rare: Reflections on Book Collecting
Dr. Oren W. Davis, retired professor of philosophy and humanities, Trinity College Vermont, will discuss his rare book collection and how he used it in teaching on Wednesday, September 26, in McKillop Library.

Dr. Davis recently bequeathed his extensive collection, acquired during his 34 years at Trinity College of Vermont and Landmark College in Putney, Vermont to McKillop Library's Special Collections. Dr. Davis's collection contains hundreds of important books published from the 17th through the 20th centuries in the areas of literature, philosophy, theology, history and art. Some examples of the wide range of his collecting are Aesop's Aesopi Phyrgis Fabulae, 1609; a set of Friedrich Schiller's Sämmelte Werke from the library of Austrian General Graf Radetzky with Radetzky's personal bindings and bookplates; a copy of Bertrand Russell and Alfred North Whitehead's Principia Mathematica signed by Bertrand Russell; and a first edition of Hemingway's For Whom the Bell Tolls.

Dr. Davis received his B.A. in philosophy from Oklahoma City University. After studying on a Fulbright Fellowship for one year at the University of Marburg in Germany, he returned to the U. S. to complete his M.A. and Ph.D. in philosophy at Northwestern University in Evanston, Illinois. In addition to teaching, he has been a lecturer and conference presenter on various philosophical, ethical, and cultural topics.

A reception will follow his presentation.