The library has 90 PCs and 12 Macs available for use by Salve students, faculty and staff. Below is a list of commonly used software installed on the PCs and Macs in the library.
We also have "pods" of computers with specialized software for Business/Accounting and Design. For a full list of software on all library computers, download the
Library Software Sheet
[pdf].
The library also offers a number of gadgets and items for purchase or check-out, like presentation remotes, small desk fans, iPads, iPods, library pens
and more
(click for full list).
Just go to the front Circulation desk (1st FL)!
Desktop PCs (Windows 7)
Adobe Reader X
Audacity
Google Earth
Inkscape
Internet Explorer
iTunes
Microsoft Office 2010
Access
Excel
InfoPath
OneNote
OutLook
PowerPoint
Publisher
Word

Mozilla Firefox
Paint.NET
Picasa 3
QuickTime
Real Player
Skype
Turning Point 2008
VLC Media Player
Windows DVD Maker
Windows Media Player
7-Zip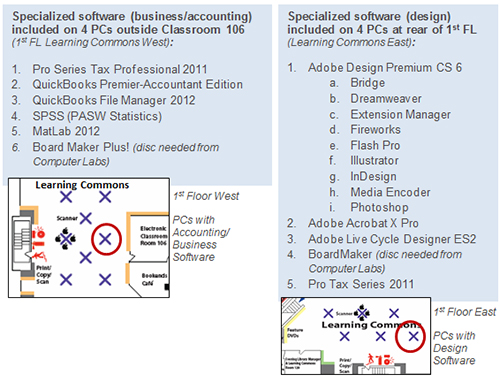 Desktop iMacs (OS X 10.8.4 - Mountain Lion)
(Duplicates software in the Antone Center)
Adobe Acrobat X Pro
Adobe CS 6
Bridges
Extension Manager
Dreamweaver
Fireworks
Flash
Illustrator
InDesign
Media Encoder
Photoshop

Audacity
Cyberduck
FaceTime
Firefox
Flip4Mac
GarageBand
Gimp
Google Chrome
HandBrake
iDVD
iMovie
iPhoto
iTunes
iWork '09
Microsoft Office 2011
Excel
Outlook
PowerPoint
Word

Photobooth
Quicktime
Safari
Skype
Text Edit
Text Wrangler
Toast Titanium
VLC Media Player
VueScan (for use on Mac w/ Epson Scanner)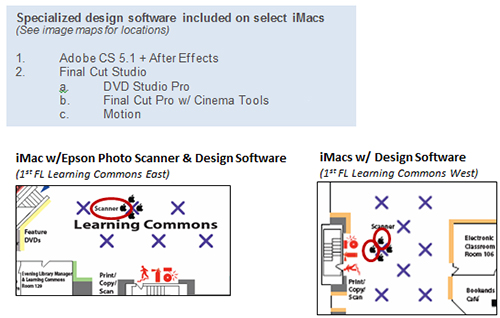 Have more questions?
Ask a librarian
at 401-341-2289.