Course and Electronic Reserves...
Use the above searchbox to locate all your class's "on Reserves"
Help with course reserves
The McKillop Library holds a collection of library materials reserved for current courses. These materials include books, articles, videos and other materials and are either available at the circulation desk (physical reserve) or online (electronic reserve).
Electronic reserves includes: class notes, practice tests, articles, video and music clips, and images. You will need the appropriate plug-ins to use these files. Due to copyright laws, video quality is limited.

To view PDF files on e-reserves you will need Abode Acrobat Reader.
Download Adobe Reader

To view video-on-demand and audio files you will need the VLC Player.
Download VLC Player

A plugin or app may be required on certain devices/computers for users to view the streaming video.
Chrome seems to be the best browser and is recommended for viewing the videos.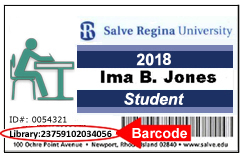 You will be asked to enter your name, library barcode number (14 digit number on your Salve ID), and, in certain cases, a password to access reserve materials. Enter your name as firstname lastname. If needed, the password will be provided by your professor. If you do not know your library barcode, please call the Circulation Desk at 401-341-2291.