MCKILLOP LIBRARY IS DEVELOPING AN ANIME COLLECTION!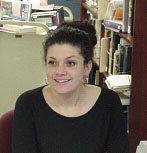 Anime is a Japanese style of animated storytelling for adults or children. It can be in the form of updated Japanese folktales or fully modern stories for adults, which often deal with issues of the philosophy of technology, or human culture in an increasingly technological world. Anime is often developed out of manga, or "graphic novels" which are aimed to be read by people of all ages and are wildly popular in Japan. Closely watching different anime films can provide an introduction to many aspects of Japanese culture, including Shinto practices and Japanese history.

Though anime films look like cartoons, they are often meant to be watched by adults, and can be extremely violent or involve adult themes. As with all media, we recommend parents preview them or discuss them with a librarian before showing them to children.

If you have any comments, questions, or suggestions for developing our anime collection, please email Dawn Emsellem at dawn.emsellem@salve.edu or make a comment at through the library's feedback form.
ACADEMIC SUBJECT GUIDES
Part of the library's goal is to guide students and faculty alike toward resources appropriate to their research. One of the ways in which we do this is by creating subject specific guides to the library's resources. These guides include online as well as print resources and they can be accessed by anyone at any time of day from the library website. The guides list resources such as reference books, online journals, appropriate databases, and reputable websites. We have many guides including Politics, Social Work, Nursing and Psychology, as well as guides for eSalve students and Faculty. We probably have a guide for your research topic! To view our subject guides simply go to the library homepage and click on the Subject Guides link under Research. If you do not see your subject and would like the library to create a guide, please contact Laura Kohl at kohll@salve.edu or phone 401-341-2293.
REFERENCE STAFF UPDATE

Laura Kohl has worked at the library for four years and is already known by many on campus in the capacity of Interlibrary Loan Specialist. Laura completed her master's degree in Library and Information Studies last Spring and the Reference department is pleased to announce that Laura accepted a professional position on the McKillop Library Reference staff in August.

In addition to providing reference service to the Salve campus community, Laura's focus will be on web-based services for distance education students and local students accessing the library's services from home. Laura's undergraduate degree is in Anthropology from Boston University and she is the Social Work/Sociology/Anthropology subject liaison.

Kristen Anderson joined the staff in November in the position of Interlibrary Loan Specialist. Kristen has a BA in Psychology and a MA in European/Asian History both from Providence College. She is currently enrolled at the Graduate School for Library and Information Studies at URI. Kristen has worked at the URI library in Special Collections and at Newport Public as the children's librarian. She also has a Maine State certification in Elementary Education.
The database includes indexed citations to articles published in Roman Catholic periodicals, papal documents, church promulgations, and books about the Catholic faith that are authored by Catholics and/or produced by Catholic publishers. This database contains more than 300,000 records covering Roman Catholic publications. Since the database is part of the EBSCOhost interface there are often links to full-text articles. CPLI can be accessed through McKillop Library's Databases A-Z Listing
CHOICE magazine reviews significant current books and electronic resources of interest to those in higher education. Choice Reviews Online provides Web access to the entire database of CHOICE reviews published since September 1988. The database is updated monthly, generally at mid-month, with reviews that will be printed in the next monthly issue of CHOICE. The newest reviews appear, arranged by academic discipline and broad cross-disciplinary topic, in Current Issue. They also are searchable by using Advanced Search, selecting by CHOICE Issue Date, and combining with various other criteria. Choice Reviews Online can be accessed through McKillop Library's Databases A-Z Listing
Ovid Nursing Journals
The McKillop Library recently purchased online subscriptions to five nursing journals from Ovid. The journals are all full-text and available through the McKillop Library's Serials List.

The five new nursing titles are:

The American Journal of Nursing
Cancer Nursing
The Journal of Nursing Administration (JONA)
The Journal of Nursing Education
MCN, The American Journal of Maternal Child Nursing

Full-text linking to these journals will also be available when searching the CINAHL database in EBSCOhost.
NEW PRINT REFERENCE TITLES
ENCYCLOPEDIA OF RELIGION, 2nd edition (15 volumes) The first edition of the Encyclopedia of Religion was chosen by Library Journal as one of the most important reference works of the millennium. Mircea Eliade's Encyclopedia of Religion also won the American Library Associations' Dartmouth Medal in 1988 and is widely regarded as the standard reference work in the field.

The second edition, which is intended to reflect both changes in academia and in the world since 1987, includes almost all of the 2,750 original entries -- many heavily updated -- as well as approximately 600 entirely new articles. Preserving the best of Eliade's cross-cultural approach, while emphasizing religion's role within everyday life and as a unique experience from culture to culture, this new edition is the definitive work in the field for the 21st century. An international team of scholars and contributors has reviewed, revised and added to every word of the classic work, making it relevant to the questions and interests of all researchers.



ENCYCLOPEDIA OF CLOTHING AND FASHION (3 volumes) From diapers to Dior, saris to serapes, the world of clothing is nearly as vast and as ancient as the human race. Tracing the stylistic and functional threads that unite clothing across time and cultures -- as well as delving into the divergent styles and significance of apparel -- this A to Z encyclopedia is the essential resource for exploring the relationship between culture and couture.

This broad-based set surveys clothing, body adornment, and examines the origins of clothing, the development of fabrics and technologies, and the social meanings of dress. It also presents information on representative costumes from a wide variety of historical eras, which are frequently the topic of student research. The short entries explain the history of garments (necktie, codpiece, cocktail dress, bathing suit, burqua, Nehru jacket), techniques and manufactures (batik, dry cleaning, zipper, stone washing), body adornment (makeup, mask, tattoo, wig), and important persons and institutions (Coco Chanel, Edith Head, Yves Saint-Laurent, Fashion Institute of Technology). The longer essays provide cultural context: class, gender, sumptuary laws, costume design for stage and screen, advertising; fashion careers; ecclesiastical dress; military uniforms; and much more.
New Reference books are located on a cart outside Room 130 in the Reference Area.

FRONT LOBBY EXHIBITS
Cape Verde Islands
From February 10-March 19, 2005 the McKillop Library has mounted an exhibit on the Cape Verde Islands in the lobby cases of the library.

The Cape Verde Islands are located in the Atlantic Ocean 300 miles West of Senegal and 700 miles northwest of Brazil. This independent island nation, formerly a Portuguese colony, has had ties with New England since the early 19th Century when residents of the islands joined American ships as part of their crew. Since the nineteenth century there was steady immigration between the Islands and Southeastern New England. New Bedford and Providence, ports of entry in the days of sailing ships, were the traditional local centers for the community. The common means of transportation between the islands and America between 1860 and 1950 was on packet ships. The Schooner Ernestina, the last of the packets, is currently the official ship of the State of Massachusetts and is berthed in New Bedford.

The Cape Verdean Community in Southern New England continues to thrive beyond its traditional centers and its members are prominent in all walks of life. The Cape Verde Islands have been a republic since July 5, 1975. For more information on the exhibit please consult the Reference Librarians.

Lenders to the Exhibit: Dr. Joao Monteiro, Salve Regina University Sociology Department and Schooner Ernestina Commission, New Bedford Massachusetts. http://www.ernestina.org
Exhibit designer: Laura Kohl


Healthy Life Choices
On display in the Browsing Area is a collection of materials on Healthy Life Choices. This display has been created to support the initiative put forth by the Office of Student Life and the Committee on Responsible Social Behavior.

Also on display in the lobby is an exhibit devoted to honoring February as Heart Healthy Month. In conjunction with the Human Resources Office and Kathleen Jackson, the library has prepared a display of materials related to heart health. All of these materials may be borrowed. For more information on Salve Regina's wellness program please contact Ms. Jackson at 401-341-3160
---
The purpose of this brief newsletter is to inform Salve Regina University faculty and staff of new additions and improvements to McKillop Library services and resources. As always, please check the McKillop Library website for the most current information.
Subscribe to Newsbrief
Automatic e-mail delivery of each issue!

Send comments or questions to John Lewis, Electronic Resources Librarian, x2687 or lewisj@salve.edu