STUDENTS TO STUDY
MCKILLOP LIBRARY'S CARBON FOOTPRINT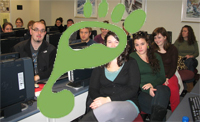 In an effort to become more aware of our impact on the environment and to identify ways to reduce our carbon footprint, McKillop Library has invited Dr. Jameson Chace, Assistant Professor,Department of Biology and Biomedical Sciences, to repeat a student project which assessed various aspects of Salve's carbon footprint.

Previously his students in BIO 140, Humans and Their Environment, worked in groups to study selected areas of interest, such as students' transportation to and from campus. This semester, however, his students will focus on activities and energy use in the entire McKillop Library building. Initially they will investigate and calculate electricity, heating, and paper use.

After these assessments, they will offer suggestions and strategies to reduce the carbon footprint of the McKillop Library building.
BOOKCROSSING
GIVES LIFE TO THE FREE BOOK SHELF

Anyone who comes to the library, with or without a library card, may take a book from our free book shelf. But now that McKillop Library is a registered member of BookCrossing.com, you may track the book's journey around the world as it is passed on from person to person. The idea is to share a book, leave it on a park bench, a coffee shop, at a hotel on a vacation—anywhere it might find a new reader. By logging on to http://www.bookcrossing.com you can join thousands of BookCrossers in forums to discuss authors and books and find out how far your book has traveled.

"BookCrossing is earth-friendly, and gives you a way to share your books, clear your shelves, and conserve precious resources at the same time." To share books, stop by the circulation desk and let the staff know you'd like to donate them to our BookCrossing shelf.