FROM LIBRARY TO LEARNING COMMONS

by Kathy Boyd

You may have noticed subtle changes taking place on the main floor in the library-students working together in groups, users surfing the internet on laptops using the library's wireless service, the expansion of A/V and multimedia resources, the creation of a comfortable browsing area, the addition of a café, the configuration of public computers to include Microsoft Office software applications, the introduction of color printing, faxing, and scanning in the reference area, as well as the recent introduction of collaborative workstations for group work…

All of these changes are consistent with the evolving role of libraries in recent years, from that of a quiet area for study and research, to one that also creates social spaces to accommodate the learning styles of the multi-tasking Net generation. The library plans to partner with other areas on campus to provide seamless service to our constituents, particularly those newer students who have grown up with technology and expect just-in-time access to information and resources to promote active learning experiences. We will begin a major planning effort this summer to expand our vision of future library services. Stay tuned.
WHAT IS A COLLABORATIVE WORKSTATION?
by Cathy Rowe
At Salve students are increasingly asked to work in groups or to collaborate on projects. The library is supporting this initiative by providing collaborative spaces that facilitate peer interaction. Imagine students brainstorming with each other to generate the initial shape of whatever project they are creating. They are seated around a collaborative workstation that will allow them to immediately incorporate their ideas into a Word document or a PowerPoint presentation.

A collaborative workstation is generally a single computer with a large screen monitor placed on a table or large work area that will accommodate 2, 3 or more students. The large screen allows group members to easily see the developing project. Chairs that move easily allow the students to move back and forth as they take opportunities to contribute. Sufficient desk area provides space for books and papers.

The computer is equipped with software such as Microsoft Office Word, EXCEL, and PowerPoint that is necessary for typical projects. Access to the Internet goes without saying.

Such a workstation has been incorporated into the Reference area of the library. The Reference workstation also has a scanner attached as well as a color laser printer. Computers with large screen monitors have also been added to study rooms 204 and 306. We encourage students to make use of these new workstations and give us feedback on how they are being used and what more might be added.
NEW DATABASES

by John Lewis

The McKillop Library recently subscribed to two new EBSCO databases. Teachers Reference Center is an index of over 260 titles from the most popular teacher and administrator trade journals, periodicals, and books. TRC provides information for K-12 Teachers & Librarians on key education topics. Library Information Science & Technology Abstracts indexes more than 600 periodicals, plus books, research reports and proceedings. Subject coverage includes librarianship, publishing, censorship, bibliometrics, online information retrieval, information management and more. Coverage in the database extends back as far as the mid-1960s. You can find both of these databases in the McKillop Library A-Z database list at http://mckillop.salve.edu/databases_a-z.cfm

ANTHROSOURCE IS NOT JUST FOR ANTHROPOLOGY

by Laura Kohl

The library has recently subscribed to a new full-text database called AnthroSource. It archives all of the journals of the American Anthropological Association, through 2003, although most of the journals' current issues are also available online. Articles are available in a PDF format and can be saved to your desktop, emailed or printed.

AnthroSource is not only for those doing research within Anthropology. Due to globalization and its reach into every facet of study, students doing research on any number of topics will find AnthroSource to be useful. It can assist in providing cultural background to business studies research, varied world views on philosophy and psychology, as well as information on world politics. Recent articles available in the database include topics such as suicide protests and the Native American gaming industry. So when you begin your research be sure to check out AnthroSource for a more global and multicultural perspective.
WHAT'S NEW IN CIRCULATION?
by Joe Foley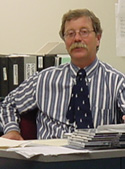 The McKillop Library now has a fax machine located in the Reference Area of the first floor. For the present, faxes are for outgoing material only. You will need a calling card to pay for this service. Calling cards can be purchased in Miley Hall.

Brown University has announced that they will now allow patrons to renew their books through the HELIN system. Related to this, some HELIN members have announced that they will now allow renewal of most "overdue" material. In both cases the renewals will only take place if no one else has placed a hold on the book. Also, please take note that some HELIN members charge fines on overdue material and a renewal of material from these schools does not absolve one from the fines that accrue each day the material is overdue. The service is provided for those that absolutely need to keep the item a bit longer.

DVD's continue to be very popular. Circulation of the DVD's is continually increasing. New movies are arriving all the time so come to the library to see what's new. For those of you interested in sports movies you can take a look at the McKillop Library Sports Movies Annotated Bibliography which is available in the Serials Area and at the Circulation & Reference Desks. This listing provides a brief review of the library's sports movies on DVD, and is broken down by individual area of sport.
LIBRARY HOSTS FACULTY-AUTHOR TALKS

By Allen Antone



The McKillop Library hosted four faculty talks during the academic year 2005-6 and is seeking suggestions for next year's programs. These programs provide an opportunity for the Salve Regina University community to recognize the work of their colleagues and for faculty involved in research and other creative projects to present and discuss their work with other faculty, staff and students.

Faculty presenting at this year's programs were:
Dr. James L. Yarnall, author of Newport through its Architecture
Dr. James Hersh, author of Poeticized Culture: the Role of Irony in Rawl's Liberalism
Dr. Tina Wray, author of The Birth of Satan: Tracing the Devil's Biblical Roots
Dr. James C. Garman, author of Detention Castles of Steel and Stone: Landscape, Labor and the Urban Penitentiary
Each talked briefly about their research or a topic related to their research. Their presentations were followed by questions and answers. The mix of faculty and students provides students with an occasion to participate in intellectual dialogue and discussion outside the classroom.

For program suggestions, please contact Kathy Boyd, Library Director, at boydk@salve.edu or x2374.
NEW BOOK REVIEWS

Self-Made Man: One Woman's Journey into Manhood and Back Again

By Norah Vincent

Reviewed By Dawn Emsellem



Self-Made Man is Norah Vincent's deeply personal exploration of the meaning of gender in contemporary times. In her conversational, sometimes bawdy tone, she describes her adventures as Ned, a persona she created to pass as a man. She asserts that she did pass, in such deeply masculine venues as a monastery, an all male bowling league, in strip clubs, and in a testosterone-fueled sales office. Her use of the men she befriended to describe broad theories about masculinity and its advantages and pitfalls is hardly scientific, but it is compelling.

Some incendiary writing comes with her descriptions of dating women as a man. Vincent excoriates women for demanding impossible, contradictory qualities from the men they date, and for sabotaging their chances at happiness by giving into bitterness and prejudice. Coming from a lesbian and self-proclaimed feminist, it is interesting reading.

Some of her ugliest sketches are painted in the strip clubs she visited as Ned, which she uses to explore the basis of male sexuality and female debasement. Though her conclusions about this and masculinity in general are certainly debatable, they are also provocative, and her experiment is interesting enough to justify spending the time to read this book.

1491: New Revelations of the America's before Columbus

By Charles C. Mann

Reviewed by Joe Foley



If you enjoy reading non-fiction, 1491: New Revelations of the America's before Columbus by Charles C. Mann is an interesting read. The author attempts to dispel many previous held beliefs concerning the indigenous people in the America's prior to Columbus. As one reviewer wrote, "Mann …challenges the conventional wisdom about Indian culture, society and politics". Among these previous held beliefs was the belief that the population of the America's prior to 1491 was very low. The author provides convincing evidence that the population of the America's was far greater than previously thought. Also, the author makes a case that they were far more technologically advanced than they have been given credit and that many had very sophisticated societies. On the negative side, some of their slash and burn techniques prove that they did not always make the most ecologically sound decisions and thus were not quite as in harmony with nature as some would have us believe.

Charles Mann's 1491 should be read by all those who still think that they "know" about American Indians. They may just find out that they are relying on white man's prejudices.
MCKILLOP LIBRARY TECHNOLOGY FACT SHEET

Internet Access

Wireless access is available throughout the library. Ethernet ports are available on 1st and 3rd floors. Analog ports are available on 2nd and 3rd floors.



Library Public Computers

Reference area - 22 computers
Instruction Classroom - 22 computers
Serials area - 6 computers
Second floor - 7 computers
Third floor - 9 computers



Software Configuration on Computers

Microsoft Windows XP professional
Microsoft Office 2003 professional
EContribute 3 (in class room 106)
Ebrary/Media players (Windows Media, Real, Quicktime, Flash, Shockwave)
TIFF image viewer/Norton Antivirus



Main Circulation Desk

Available for checkout: 3 laptop computers, earphones, ethernet cables
Pickup area for guest printer

Collaborative workstation 1

(Reference area)
Computer/CD player/Large screen monitor/Scanner
Printing (color and black/white)
USB, headphone and microphone ports



Collaborative workstation 2

(Study room 204)
Computer/CD/DVD player/Large screen monitor/Scanner/Printing (black/white)
USB, headphone and microphone ports



Collaborative workstation 3

(Study room 306)
Computer/CD player, floppy drive/Large screen monitor/Printing (black/white)
USB, headphone and microphone ports



Study rooms

May be booked through Circulation Room 204 - Collaborative workstation - group study for 15 students
Room 217 - Television, DVD player, CD player - group study for 15 students



Coffee shop

Television/Wireless access as well as Ethernet ports/Change machine

Electronic Classroom 106

May be booked through Reference x2289
22 computers
CD/DVD players, CD players, floppy drives
USB, headphone and microphone ports
Printing facilities - 1 teacher station
Laptop computer/Visualizer/Projector and large screen/DVD player/ VHS player/ CD player/Telephone with speaker and conference capability



Printers

First Floor
2 large black and white laser jets in Reference area
1 large color laser jet in Reference area
Black and white laser jet behind Circulation for Guest printing
Second Floor and third floor
Black and white laser jet - laptops may be plugged in to print



Other ...

Photocopy machines-Floors 1, 2, 3
Microform readers with printers--- 2nd floor
Fax machine-1st floor near photocopiers
---
Subscribe to Newsbrief
Automatic e-mail delivery of each issue!

Send comments or questions to John Lewis, Head of Reference, x2687 or lewisj@salve.edu