September 2009 / Issue 22

FROM THE DIRECTOR --
THE LEARNING COMMONS



This summer, in preparation for our new Learning Commons, there have been many moves of offices and departments. Changes to the library building include a new collaborative area on the main floor with new carrels and chairs, new computers (Mac and PC), the addition of data ports to accommodate more laptop use, and new machines with enhanced printing capabilities, including color and duplex printing as well as scanning to e-mail. A new multipurpose classroom has laptops built into a large central meeting area, a SmartBoard and a new teacher station. This room may be booked for multimedia use by students and faculty. Most of the main floor renovations have been funded by a grant received from the Champlin Foundations. On the second floor, a new Faculty Center for Teaching and Learning has been created with support from the Davis Foundation. This center includes dedicated space for the use of faculty.

To celebrate the official opening of the new Learning Commons, please join us on Wednesday, September 23, 4:30-5:30 for live music, door prizes, and refreshments. The redesigned space, displaying kites made by Sue Letourneau, offers workspace, advanced technology and comfortable seating. The area is designed to allow students to work collaboratively and undertake research in a social context.






WE MOVED!

During the summer, several offices moved in the library. Our new office locations are:



Joan Bartram,
Collection Development Librarian
Room 111
Maria Bernier,
Archivist/Special Collections Librarian
Room 023 (garden level)
Kathleen Boyd,
Library Director
Room 305
John Lewis,
Electronic Resources Librarian
Room 129
Jane McPherson,
Library Secretary
Room 304
Julie Swierczek,
Technical Services Specialist, Cataloging
Room 308
Lisa Underhill,
Technical Services Specialist, Acquisitions
Room 308
Olga Verbeek,
Library Information Systems Coordinator
Room 129

New offices in the library include:



Faculty Center for Teaching and Learning
Room 208
Carole Currie,
Instructional Technology Specialist
Room 206
Annette Torrey,
Director, Center for Teaching and Learning
Room 205


The Academic Development Center, including Subject Tutoring, the Writing Center, Disability Services, and English for Academic Purposes, has moved to McAuley 101.


NEW MULTI-PURPOSE MACHINES




The McKillop Library's public printers have been replaced with new multi-purpose Ricoh machines which can copy, print, and scan. Several new features are available with these machines:

Color printing as well as black & white
Full duplex (both sides of the page) printing
Selection of paper size
Printing from Salve laptops over the wireless network

Students, faculty, and staff will now need to use their Salve IDs to copy, print, and scan using the enhanced devices. Detailed instructions are available at the Circulation and Information desks.
LIBRARY PRIVILEGES AT BROWN UNIVERSITY EXTENDED
Salve Regina faculty, staff and students with a current Salve ID card may now enter and check out circulating books on-site at the Brown University Libraries. CRIARL cards or special permission forms are no longer required to gain admission.
Most of the books at the Rockefeller, Sciences and Orwig libraries can be checked out.
Most other materials may be used in the building.
Videos do not circulate.
Circulating books may still be requested online through HELIN's catalog via InRhode. Most requested items are delivered to the user's library of choice within 24 to 48 hours. The Brown libraries contain a collection of over three million items.

EBSCOhost INTEGRATED SEARCH

The McKillop Library has subscribed to Integrated Search, a one stop database search interface from EBSCO Publishing. Through Integrated Search library users will be able to search multiple databases through one search box. Integrated Search will conveniently return results from 40 databases into one collective list. Selecting the Find Articles option from the library web site will eliminate the need to search multiple databases in order to execute a complete search strategy.

Through Integrated Search, library users will be able to search all 31 EBSCO databases as well as Wilson, JSTOR, LEXIS/NEXIS, the HELIN catalog and other databases. Users can also select a subject-based option to search a preselected list of databases based on subject area. Results are returned based on relevancy to the user's search terms. Another advantage is that Integrated Search uses the familiar EBSCOhost search interface so library users will already be familiar with searching and browsing results.

You can test drive Integrated Search right here or visit the Library web page located at http://library.salve.edu. Click the Find Article tab at the top of the page and type your search terms into the box. Click the Go button then browse your results. If you have any questions or comments about Integrated Search you can contact John Lewis at lewisj@salve.edu or call 401-341-2687.
NEW STUDENT SEMINAR RESEARCH ASSIGNMENT GUIDE
An extensive online guide has been created by the library reference staff to assist first year students with their
Blessed Unrest
research paper. Anyone, however, may access this site as a step-by-step guide through their own research process. The guide offers tips and interactive tools to help in:
managing time by creating an individual assignment calendar
finding information on topics by using an interactive concept mapping program
creating a search strategy
finding, reviewing and evaluating scholarly books and articles and reputable websites
citing sources
The guide can be found at
http://library.salve.edu/nssguide.html
.
You can always visit the Library to meet with staff for help in finding books, articles, or websites to help enhance your research. For assistance, stop by the
Information desk
on the first floor of the library or call 401-341-2289.
NEW VIDEO TUTORIALS

McKillop Library staff members have created several new tutorial videos providing brief explanations on topics such as using the library catalog, finding articles on a topic in a database, searching for full-text articles, limiting results to scholarly articles, and requesting a book from another library. These videos have been uploaded to YouTube and are now embedded in many library web pages for easy access and viewing. The Curriculum Resource Center webpage also includes a brief video tour highlighting resources for education majors.

All videos can be seen by visiting the library's YouTube channel at http://www.youtube.com/McKillopLibrary.

MCKILLOP LIBRARY ON FACEBOOK

The McKillop Library has a Facebook page where users can find:

Helpful links to the library website
How-to videos
Event announcements
New arrivals
HELIN catalog search box

Search for "McKillop Library" within Facebook!



ARCHIVES AND SPECIAL COLLECTION NEWS


The University Archives and Special Collections, including the Newport book collection formerly in the Munroe Special Collections room, have been merged and moved to the garden level Room 023.

John Winslow, friend of the university and Chairman Emeritus of The Preservation Society of Newport County, recently donated a collection of letters that were written or accumulated by several branches of his family. Mr. Winslow felt the papers would be a valuable research resource for our students, particularly those in history, CHP, and education classes. A significant portion of the collection consists of correspondence from the 1830s between wealthy New Yorker Henry Brevoort, Jr. and his children, who were attending Emanuel Fellenberg's experimental school in Hofwyl, Switzerland. Other notable pieces in the collection are a 1778 letter by Alexander Hamilton in his role as Secretary and Aide-de-Camp to General Washington, letters to Henry Brevoort, Jr., from painter Rembrandt Peale and author James Fenimore Cooper, and an 1826 letter to Brevoort from Charles Carroll of Carrolton, last surviving signer of the Declaration of Independence.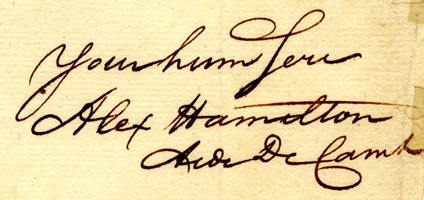 Please contact Maria Bernier at maria.bernier@salve.edu or 401-341-2276 for an appointment to view University Archives and Special Collections materials. Appointments are available Monday-Friday from 9:00am-4:00pm.
ENVIRONMENTAL SCIENCE CLASS EVALUATES THE LIBRARY'S ENERGY CONSUMPTION


In the spring semester 2009, Dr. Jameson Chace's BIO 140 class conducted an assessment of McKillop Library's energy consumption. Students met with library, computer lab, and facilities staff; observed work processes behind the scenes and the way students and faculty use the library; measured temperatures and took light readings throughout the building; evaluated the building's systems; and took surveys of staff to determine fossil fuel use.

The students' full report, available in eScholar @Salve Regina, focused on improving recycling by library users and reducing energy consumption by library equipment. Library staff is incorporating the content of the report into short- and long-term strategic planning. The students' findings will also be used to create benchmarks to evaluate the library's progress on reducing energy use. A library sustainability webpage is being created to highlight the library's sustainability goals and programs. Staff member Dawn Emsellem has been assigned to gather and organize suggestions and develop plans to implement ideas for changes. Anyone who uses the library is encouraged to email suggestions and comments about the library's environmental footprint to Dawn Emsellem at dawn.emsellem@salve.edu.

LIBRARIANS WORK WITH SWISS TEACHERS


For the second consecutive year, the library participated in the Swiss Teacher Program in Salve's International Summer School. During six sessions set aside for instruction and reference assistance, librarians Joan Bartram, Ingrid Levin, and Cathy Rowe worked with the 21 teachers who prepared materials to be used in their classrooms. While working in the library, participants also produced a web page and worked in pairs to produce a daily diary. See their web page at http://www.swiss-in-america.infofor more about their experience, including diaries, idioms they learned during the program, project topics, and additional photos.
| | |
| --- | --- |
| The McKillop Library website has been named "College Website of the Month" - May 2009 by the Association of College and Research Libraries (ACRL). The Communications Committee of ACRL features one or two college sites a month that they think possess noteworthy contents, features, designs, etc. The Library's website was commended for its overall design which makes resources accessible from multiple points. Read more at the ACRL web site. | |
---
Send comments or questions to Allen Antone, Outreach Librarian, 401-341-2278 or antonea@salve.edu