NEW DATABASES
by John Lewis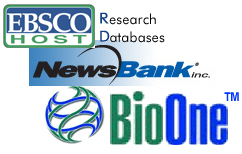 The McKillop Library has recently subscribed to twelve new or enhanced databases. All can be accessed from the New Databases link on the McKillop Library home page.

From EBSCOhost :
CINAHL with Full Text,
Film and Television Index,
International Security and Counter Terrorism Reference Center, and
Social Work Abstracts.

From Alexander Street Press:
Theatre in Video with BBC Shakespeare.

From NewsBank:
America's Historical Newspapers, Series One, 1690-1876, also known as Early American Newspapers, is highlighted below.

Other new databases:
Plunkett Research Online with Archives,
Bio One Two,
Reference Universe,
Europa World Plus and Regional Surveys of the World, and
Sage Journals Online.


DATABASE SPOTLIGHT -
AMERICA'S HISTORICAL NEWSPAPERS INCLUDES NEWPORT MERCURY
By John K. Lewis
The McKillop Library recently added America's Historical Newspapers, Series 1, 1690-1876, to its roster of electronic resources. An outgrowth of the Early American Newspapers collection, the database offers 350,000 fully searchable issues from over 700 historical American newspapers. It is particularly important to Salve because it includes coverage of the Newport Mercury from 1758 to 1842. Eight other Rhode Island papers of the period are also included along with newspapers from 23 states and the District of Columbia. Focusing largely on the 18th and early 19th centuries, this online collection is based on Clarence S. Brigham's "History and Bibliography of American Newspapers, 1690-1820" and other authoritative bibliographies.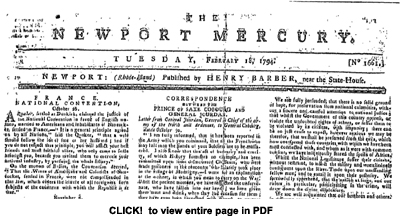 Early American newspapers, often printed by small-town printers, documented the daily life of hundreds of diverse American communities, supported different political parties and recorded both majority and minority views. In Early American Newspapers, users can limit searches to items that fall into such categories as news and opinion, election returns, letters, poetry, legislative information, prices, advertisements, matrimony notices and death notices. In addition, users can easily view, magnify, print and save items.

The core of the collection consists of American Antiquarian Society (AAS) founder Isaiah Thomas' own collection of colonial and early national period newspapers and is supplemented by issues added by Thomas' successors at the AAS. Numerous other institutions and historical societies have contributed to the collection, including the Boston Athenaeum, the Connecticut Historical Society, the Connecticut State Library, the Library Company of Philadelphia, the Library of Congress, the libraries of universities such as Brown and Harvard and private collections. This joint effort has led to the creation of a historical newspaper collection of unparalleled breadth and depth.
NEW DATABASES INCREASE ACCESS TO NURSING ARTICLES
By Ingrid Levin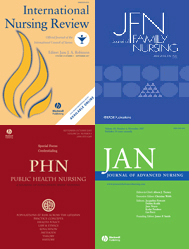 The Library has recently obtained several new databases that increase access to articles on nursing topics. A new and expanded version of CINAHL, called CINAHL with Full Text, provides full text articles from more than 520 nursing and allied health journals, with coverage dating back to 1981. Other new databases that include numerous nursing journals are Sage Journals Online and the Blackwell Synergy Full Journal Collection. Sage includes over 460 journals on a variety of topics, and includes nursing journals such as Nursing Science Quarterly, Journal of Research in Nursing, Journal of Family Nursing, Journal of Holistic Nursing, and Journal of Transcultural Nursing. Blackwell Synergy provides the full-text of over 850 journals, includes nursing journals such as Journal of Clinical Nursing, Nursing Forum, Nursing for Women's Health, Public Health Nursing, and Journal of Nursing Management.

All databases are available from the Library website at Databases A-Z. You will need your library ID if you are off campus. For more information or to arrange instruction on using these databases, please contact Ingrid Levin, the liaison to the Nursing department, at ingrid.levin@salve.edu or 341-2293.
NEW INTERFACE FOR SOCIAL WORK ABSTRACTS
By Ingrid Levin
Social Work Abstracts provides researchers in social work and related fields with a large variety of articles on the theory and practice of social work, as well as social issues such as addictions, child welfare, and mental health. Recently the Library obtained a new, improved version of Social Work Abstracts which provides a much more user-friendly research experience. Social Work Abstracts is now searchable using the Ebscohost search interface, which allows searching by keyword, author, or title, and allows searches to be limited by publication date, document type, or full-text availability. Users familiar with the previous version of Social Work Abstracts will likely be pleasantly surprised by the ease of use of the new version, which will hopefully improve the research process for all users of this database.