Library Foyer: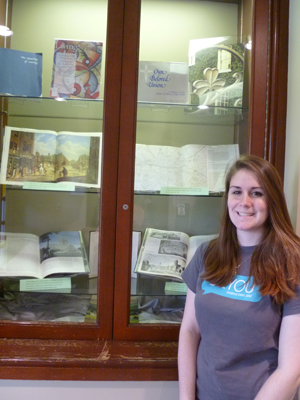 Colleen Doyle '12 with Mother Catherine McAuley display in library foyer.
Mother Catherine McAuley (1778-1841)
"Be ever ready to praise, to encourage, to stimulate, but slow to censure, and still more slow to condemn."
-Mother Catherine McAuley

Mother Catherine McAuley (1778-1841), founder of the Sisters of Mercy, is celebrated in honor of Salve Regina University's graduating class of 2012. Books from the library's collection about her and her legacy convey the passion and devotion she expressed in the uplifting of humankind. Her origins in Dublin, Ireland are depicted with historical maps and images from the times.
Visit these sites for more information about Mother Catherine McAuley:
This display was assembled by Lisa Underhill & graduating senior Colleen Doyle who studied abroad in Ireland during her junior year.