Dr. Kathleen Nickerson, assistant professor of education, spent nine weeks in the summer of 2005 in Nyumbani Village outside Nairobi, Kenya. Here she volunteered by helping the children, teaching and creating a curriculum.

In Kenya, people see much death and violence in their lives and they cope with this by bringing God into their daily lives. They call this way of life "Walking with God". Nickerson said she tried this while she was there. "Every morning before I got out of bed, I would consciously put myself in God's hands for the day," Nickerson said.


Senior Leila de Bruyne first went to By Grace with her sister three years ago. She found out about the orphanage while doing research for an anthropology course she took with Dr. Debra Curtis called Children: A Global Perspective.

She was shocked by what she saw. "Here in America, we put 3-year-olds in high chairs to stop them from falling over," de Bruyne said. "In Africa, I met 3-year-olds who were completely responsible for the care of an infant sibling or dying parent."

When de Bruyne returned from her first trip to By Grace, she raised $15,000 to benefit the orphanage with the help of classmate Bridget Sheerin and recruited her roommate, Justine Axelsson, to return to By Grace with her in June 2005. They spent the money they raised on repairs, medical bills, uniforms, books and food.

(Material edited from "Report from Newport" 32(3) April 2006)


A digital library of scholarly resources from and about Africa.
---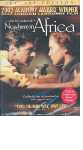 African Film A listing of videos (VHS and DVD) made in Africa that are in the library. The films listed here were all produced and directed in Africa.