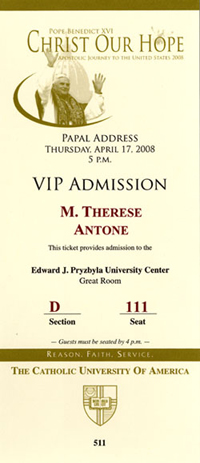 New Acquisitions in the Archives
A new exhibit on the second floor of McKillop Library features items received by the University Archives over the past few months. Some of these acquisitions document Sister Therese's recent activities, while others describe events that took place more than ten years ago. For instance, the exhibit includes a VIP admission ticket and souvenir medallion from a special Papal Address that Sister Therese attended in April. Other exhibit items relate to a lecture by senior New York Times writer Elaine Sciolino in 1998 and the dedication of a plaque in memory of Sister Mary Jean Tobin in 1998. The exhibit is located in the glass case near the stairs on the second floor.

The University Archives http://library.salve.edu/archives encourages departments and students to donate papers and business records that are no longer needed for daily use.
Contact Maria Bernier, Archivist, at 341-2276