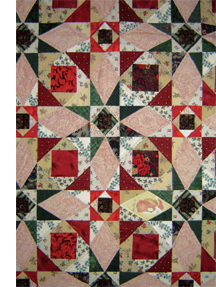 McKillop Library is holding a Holiday Open House
Tuesday, December 4, 2007, 2:00 p.m. to 5:00 p.m.
Drop by and make your gift giving easier!
Refreshments and Christmas music.
Books from Island Books
Salve Regina Christmas ornaments
Gift wrapping will be offered by the Multicultural Student Organization.
The Christmas quilt pictured will be on display. This quilt was created in 1997 by Christine Bagley, Curriculum Librarian and a prize-winning quilter in national competitions. The classic name for the pattern is Storm at Sea; Christine has entitled her quilt, Christmas Storm.