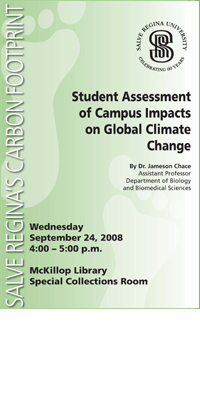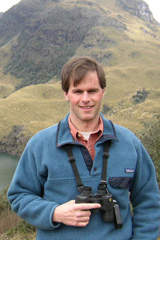 Jameson Chace, Assistant Professor, Department of Biology and Biomedical Sciences, will talk about climate change and the investigation and assessment of Salve Regina's carbon footprint by non-science majors in BIO 140-- Humans and Their Environments. A carbon footprint is "a measure of the impact our activities have on the environment, and in particular climate change. It relates to the amount of greenhouse gases produced in our day-to-day lives through burning fossil fuels for electricity, heating and transportation etc."

You may learn more about carbon footprint and calculate your personal impact at: http://www.carbonfootprint.com/index.html

Dr. Chace is one of the country's leading experts on the Canadian warbler and for the past eight years has spent his summers studying this bird in the Nulhegan Basin National Wildlife Refuge in Vermont. In addition he is Founder and Director of the Center for Northern Forest Research and a member of Salve Regina's Environmental Advisory Group.