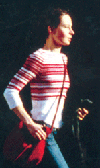 French Film Festival Display
Schedule and More Information

Six recent French films will be shown on the Salve campus from March 19 to April 4, 2006. The festival is made possible with the support of the Cultural services of the French Embassy and the French Ministry of Culture. It is being organized by the McKillop Library and the Departments of English and Modern Languages. We have placed images and books about French cinema and film on display in the library foyer. The books on display may be borrowed, for help ask at the circulation desk.
French Cinema

Godard

French Cinema Book

Stars and Stardom in French Cinema

Send comments or questions to Laura Kohl, Reference Librarian, x2293 or kohll@salve.edu