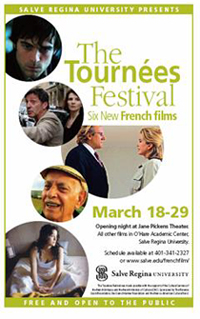 FESTIVAL OF NEW FRENCH FILMS
Click here: Schedule and More Information

Salve Regina will present its second French Film Festival from March 18-29, which is being organized by the Library and the Departments of English and Modern Languages. Six recent French films and one short film have been selected; all are free and open to the public.

Opening night, Sunday, March 18, will be at the Jane Pickens Theater; all other films will be in O'Hare Academic Center. Opening night festivities will begin at 6:15 with wine and entertainment by a French music group Manège à Trois. The trio will be playing musette, a style of French popular music featuring the accordion which flourished in the 1920s, 1930s, and 1940s. The feature film, Les Temps Qui Changent or Changing Times, to be shown at 7 p.m., involves cultural collision and unrequited love in Tangiers with France's biggest stars: Gérard Depardieu and Catherine Deneuve. Film selections were chosen to include a variety of subjects and styles.



The festival is made possible by a Tournées grant supported by the Cultural Services of the French Embassy and the French Ministry of Culture. For more information you may contact committee members: Allen Antone, Donna Harrington-Lueker, Kathy Lawber or James Mitchell.


French Cinema

Godard

French Cinema Book

Stars and Stardom in French Cinema

Browse French Films
Send comments or questions to Allen Antone, Reference Librarian, x2278 or antonea@salve.edu