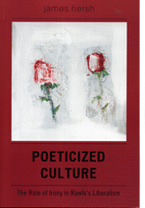 Poeticized Culture: The Role of Irony in Rawls's Liberalism:
Dr. James Hersh shows that John Rawls' framework of liberal public reason (Political Liberalism, 1993), within which he proposes his scheme of justice as fairness, includes an unacknowledged call for a Richard Rortian "poeticized culture." Dr. Hersh argues that, despite Rawls's intentions, his framework within which he proposes justice as fairness demands a Rortian ironic perspective and does not allow for citizens to hold absolute or literal religious beliefs.

Dr. Hersh argues that this Rortian perspective makes Rawls's justice as fairness the most reasonable scheme for the world's emerging democracies, particularly for those democracies emerging in the Middle East where literal religious beliefs are held with such fervor.

Painting on book cover by Paula Bolduc.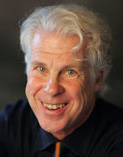 JAMES HERSH, Professor of Philosophy, has been teaching in the philosophy department for 35 years. Dr. Hersh is currently the director of the VIA program. In 1997, Dr. Hersh instigated the establishing of Salve Regina's acclaimed VIA program, which consists of challenging interdisciplinary courses that explore great ideas in history.

In 2005, Dr. Hersh received the Special Project Award from the Antone Fund for Academic Excellence. This fund supports special grants to full-time faculty who are making exceptional and distinguished contributions in their field.

Dr. Hersh's education:
B.A. DePauw University, 1965 (English Literature, Honors)
M.A. DePauw University, 1969 (Philosophy and Religion)
Ph.D. Union Institute, 1974 (Philosophy and Religion)
His specialty is in philosophy of the imagination and political philosophy.