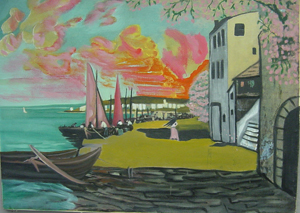 Salve Regina University's multicultural committee is sponsoring the third annual Hispanic Art Exhibit during October and November.

Begun by O. William Hilton, the third annual event will feature the works of local artists Mary O. Gallegos, Alfonso Acevedo, Ruby Alvarado and Maria Gonzales, and will be on display in McKillop Library Oct. 9 through Nov. 16.

Mary O. Gallegos, president and founder of the Hispanic Cultural Society of Rhode Island, works with oil on canvas and pencil on paper in homage to traditional cave paintings, ancient writings on deer skin and carvings on cave walls found in Central and South America. Alfonso Acevedo has exhibited throughout North, Central and South America. Ruby Alvarado is an emerging artist who works in both oil on canvas and photography. Maria Gonzales is an artist from Mexico who paints oil on canvas.

National Hispanic Heritage Month recognizes the contributions of Hispanic Americans and celebrates Hispanic heritage and culture. The observation began as Hispanic Heritage Week in 1968 and was expanded in 1988 to cover a 30-day period starting on Sept. 15 and ending on Oct. 15. This time period covers a wide range of Independence Days of several Latin American countries: Costa Rica, El Salvador, Guatemala, Honduras and Nicaragua celebrate their independence on Sept. 15. Mexico celebrates its independence on Sept. 16, Chile on Sept. 18 and Belize on Sept. 21.