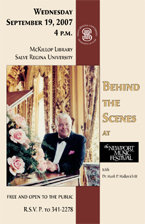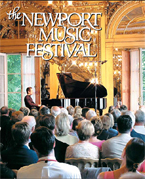 This past summer the Newport Music Festival 2007 celebrated its 39th season, continuing the tradition of presenting unique chamber music programs, American debuts, world-class artists and special events in the Gilded Age "summer cottages" of Newport, Rhode Island, including here at Ochre Court. General Director, Dr. Mark P. Malkovich, III, researched and selected works from the 19th century chamber music, vocal repertoire and the Romantic-era piano literature and created one of the most extraordinary festivals in the world. In its thirty-eight year history, the Newport Music Festival has become celebrated for presenting over one hundred twenty artists and ensembles in their American debuts.

Dr. Malkovich will provide us with a glimpse of the history and a behind the scenes view of this unique and very successful festival.

The festival was again selected for "America's Elite 1000—the Ultimate List," the very best American luxury goods, shops, services and special events; it was also named one of the "Top 50 Outstanding Festivals & Events" in North America by Leisure Group Travel magazine. Yamaha Corporation of America, Lufthansa, Roederer Champagne, Your New England Toyota Dealers and Boisset America are the major festival sponsors.