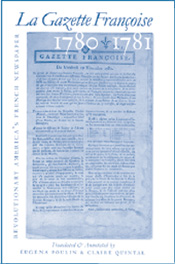 La Gazette Françoise, by Eugena Poulin, RSM, Ph.D.
In recognition of the publication of Sister Eugena's new book, La Gazette Françoise, 1780-1781: Revolutionary America's French Newspaper, translated and narrated by Eugena Poulin and Claire Quintal, McKillop Library has on display in the first floor glass cases:
a copy of the book
a copy of the 1926 reprint of the newspaper by the Grolier Club
a copy of Sister Eugena's 1981 book, The French Experience in North America and
related pamphlets on Rochambeau who was the French General during the period.
To read more details on the book see: Salve Regina University Press - UPNE

Sister Eugena, RSM, Ph.D. has been a faculty member at Salve Regina University for more than twenty years. She has been honored by the state of Rhode Island as the Franco-American of the Year and has been inducted into the Franco-American Hall of Fame by the American French Genealogical Society.
Claire Quintal, Docteur de l'Université de Paris, is the founding Director emerita of the French Institute and Professor emerita of French and Francophone Culture at Assumption College in Worcester, Massachusetts.