Sandpipers, Again

I went back to the sandpipers today --
it's been awhile.
Six of them, or
was it twenty? Never matters;
somehow we all know when a meeting
has been called,
somehow we all know
exactly
when the surf will start
tossing back
its wild hair.

One time I was astonished
to find them waiting for me
on the beach in Newport.
it was so quiet
it was like rain,
without the rain.
I wasn't planning it
my car just brought me there,
a most uncommon thing --
it's not that kind of car
but there we were, alone on a beach.

It almost made me giddy,
like today,
just now.
I'd forgotten how much
I need them.
Like me they were laughing and
sputtering about the beauty.
A few of them couldn't help it
and just kept throwing their small bodies
again and again
into the wild, white water.


-- Lisa Starr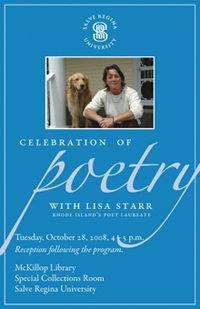 McKillop Library is sponsoring a program "Celebrating Poetry with Lisa Starr", Rhode Island's Poet Laureate, on Tuesday, October 28. Starr, who runs The Hygeia House, a B&B on Block Island, has published two collections of poetry, received the Rhode Island Fellowship in Poetry in 2002 and 2004, and is a two-time winner of the University of Rhode Island Nancy Potter Prize for Fiction. Since 2004 Starr has run the annual Block Island Poetry Project, a month-long celebration of poetry in which well-known and emerging writers join with dancers, musicians, painter, and drummers in workshops designed to deepen experiences with poetry and art.

When appointing Starr to a five-year term, Governor Carcieri noted that she is not only a talented poet, but that she is also a true advocate for poetry. Her goal as Poet Laureate, in fact, is to develop "an outreach program with workshops in every school, library and senior center in the state." Jennifer Lightly, the writer who nominated her says that Starr "floats with energy. When you are with her, it feels like you are standing on a volcano."

The program will take place in the Library's Special Collection Room from 4:00 to 5:00 p.m. and will be followed by a reception.