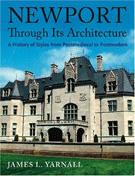 Newport Through Its Architecture: A History Of Styles From Postmedieval To Postmodern by Dr. James Yarnall, is a chronicled comprehensive history of America's greatest architectural laboratory -- Newport -- complete with hundreds of full-color photographs, drawings and illustrations.

Guided with the perspective of an art historian, Yarnall charts the stylistic evolution of Newport's architecture within its changing urban and rural landscape. Matter of style takes precedence over construction, archaeology, and scientific analysis. "A walk down any Newport street is a walk through multiple eras represented side by side with the seeming illogic of a Cubist painting," writes Yarnall.

Coincidences of unplanned historical events and Newport's constant economic shifts have preserved the architectural heritage of the city in a way that is unique among American cities. Newport has 800 pre-Revolutionary War buildings on the Point and Historic Hill. In the 19th century, Newport was home to many of America's most prominent families and patrons of innovative architecture. From Greek Revival to Gothic, Italianate, and French Second Empire, Newport exemplifies the greatness of mid-19th century American architecture.

"[This book] makes a significant contribution, not only to the history of architecture in Newport, but also to the history of architecture in the United States," writes M. Hunter Ulf, vice president of the New England Chapter of American Institute of Architects. "[It is] descriptive enouigh to satisfy the architectural scholar, while at the same time explanatory enough to allow the casual reader to appreciate the field."

The subsequent Queen Anne era of the 1870s and 1880s introduced an array of picturesque Victorian buildings to Newport, including vernacular versions of the Stick Style and Shingle Style. As Newport gained social importance in the 1880s, Beaux-Arts palatial residences found their way into the vicinity of Bellevue Avenue and Ocean Drive, to be followed one after another by the great marble mansions for which Newport is best known today: the Greek, Roman, French, English, Renaissance, and Baroque styles of Ochre Court, Rough Point, Marble House, Beacon Rock, The Breakers, The Elms, Shamrock Cliff, Vernon Court, and Belcourt, among others.

Newport's twentieth-century architecture exemplifies Bauhaus functionalism, the International Style, and the Scandinavian Modernism of Portsmouth Abbey. A spirit of conservation and adaptive reuse led to the work of historical preservation as well as the Modern Traditionalism of architect Robert A. M. Stern on the campus of Salve Regina University. This in turn influenced the postmodern design of shopping centers, estaurants, and commercial enterprises, and the fertile ground of an especially wellinformed postmodern kitsch.

"From Peter Harrison to Pietro Belluschi, Newport's architects and builders have left a remarkable legacy of great -- and often groundbreaking -- design," writes Richard Moe, president of the National Trust for Historic Preservation. "Happily, a strong local commitment to preservation (such as that demonstrated by Salve Regina University) has kept much of this legacy intact -- and now Professor James Yarnall has produced a book that celebrates this historic city's treasures with exemplary scholarship and clarity. These pages should inspire everyone who cares about America.s architectural heritage to schedule a trip to Newport right away."

This is also the first book published by The Salve Regina University Press.


---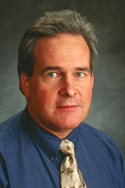 JAMES YARNALL, of Middletown, is an assistant professor in the department of art at Salve Regina, where he teaches art and architectural history. He also offers courses in the university's cultural and historic preservation program.

His work on the noted artist John La Farge spans over 30 years and dozens of publications. He currently is completing a book on La Farge's stained glass. Since 1999, he has taught art and architectural history at Salve Regina. His courses on the architectural history of Newport stress immersion in the city as a living laboratory of culture. He also is editor of publications for the Newport Historical Society and its semi-annual journal, Newport History.

Yarnall has a bachelor of arts degree in French language and literature from Stonehill College (Easton, Mass.) and a master of arts degree and doctorate in art history from the University of Chicago.