During the next six weeks the McKillop Library will have on display a set of Indonesian musical instruments on loan from the Music Department. The instruments are displayed in the two lobby cases as well as the current periodicals area. The instruments in the Current Periodicals area may be played.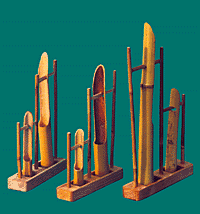 The Angklung is a set of tuned bamboo rattles from the island nation of Indonesia. The instruments are tuned to a western scale in sets of Octaves, eight instruments. The Salve Regina Angklung consists of five octaves. The instruments are played as a choir with each participating musician holding one or two in their hands. The rattle is shaken to produce its distinctive tone.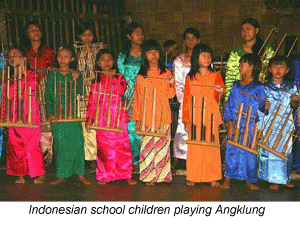 The Salve Regina University Angklung was a gift to the Music Department from Vice Admiral Thomas Weschler, Retired. Admiral Weschler, related in a telephone conversation, that he first experienced the Angklung while on a study tour to Indonesia in 1963. At that time he attended a meeting of a large international group in Bandung, which concluded with a dinner. Following dinner everyone in the room was given an instrument, and a disparate group of people created several musical pieces using the Angklung. Among the tunes played were 'Home, Home on the Range" and "Jingle Bells." This experience was a source of inspiration and Admiral Weschler purchased three octaves of the Angklung as a result of the tour. During the 1980's he was able to obtain an additional two octaves. He used the instruments with his students at the Naval Command College-the U.S. Naval War College program for foreign officers. The instruments came to Salve Regina following his retirement.
---
Exhibit created and prepared by Joan Bartram, Dawn Emsellem, and Chantel Taylor of the McKillop Library Staff.