Salve Regina University's
Library History
Salve Regina College was chartered in 1934, under sponsorship of the Sisters of Mercy. From 1934-1947 there was a charter, a corporation, a seal, courses of study, by-laws, faculty and the nucleus of a library, but no land or buildings in which to house the school.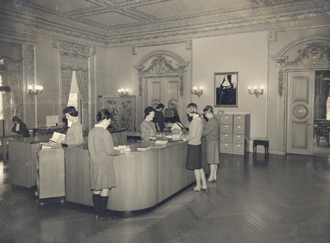 In March of 1947, Robert Goelet, donated his 50 room mansion to the Diocese of Providence, who then gave it to the Sisters of Mercy, for the establishment of the school. This building, which is called Ochre Court, had been the Goelet family's summer home, built by Richard Morris Hunt, in 1888. The entire college was housed in this building for the first few years of its existence. The original 58 women students lived on the third floor, took classes on the second floor, used the library on the first floor and ate and bought books in the mansion's basement. During this time, the library held about 2,000 books, which had been gathered during the 30's and 40's prior to the college having a home. The library in Ochre Court was run by Sister Mary Catherine Durkin from 1947-1950 followed by Sister Marie Therese Lebeau who ran the college's library 1950-1971, during which time the library moved to McAuley.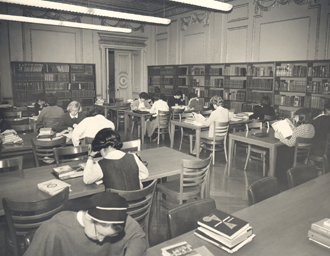 In December of 1955, Vinland was donated to Salve Regina by Florence Burden. The Vinland Estate includes the main structure (a mansion with about 50 rooms) and a great number of outbuildings including a gatehouse, carriage house and potting shed. The Vinland mansion was renamed McAuley Hall, after Catherine McAuley, the founder of the Sisters of Mercy order. The library was then moved into McAuley Hall, which is where it was able to grow in terms of volumes and staff. The library was housed on the first and second floors of McAuley, along with faculty offices on the second floor and student residences on the third floor. The library remained in McAuley Hall until the building could hold no more. All the available space had been used and there was a need for an updated information system. The turn of the century mansion was also not the best place for the storage of books, because the building was not intended to hold that much weight and was not able to handle the updating needed for computer wiring and better lighting. It was also not a climate controlled area, which is important for preservation of books. It was not the type of building that could be massively renovated due to its historic nature. There was an obvious need to create a modern building to house the library and its collections. Thus McKillop Library was conceived, planned, and built.
---
Exhibit created and prepared by Laura Kohl and Sr. Sheila O'Brien of the McKillop Library Staff.