Building partnerships for integration of information literacy across the curriculum

Last semester the library was part of the support group along with the Center for Teaching and Learning, the Writing Center, and the Office of Arts and Sciences for faculty teaching University Seminar I. The first semester has brought successful faculty-librarian partnerships in the University Seminar I classes. Nine course guides have been created and numerous library instruction sessions have been taught to orientate students to McKillop Library's resources.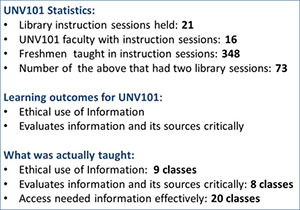 This semester the library will continue to partner with the University Seminar II faculty to support the information literacy outcomes that are inherently embedded in a writing intensive course. As the Core continues to be developed over the upcoming years, the library's goal is to advance Salve's mission, values, and vision through collaboration with faculty to integrate information literacy and research skills into the curriculum. If you are interested to learn more you can contact the library staff who will be more than happy to participate in the conversation. More information can be found on our information literacy website.
Teaching Salve students lifelong research skills: Library instruction by the numbers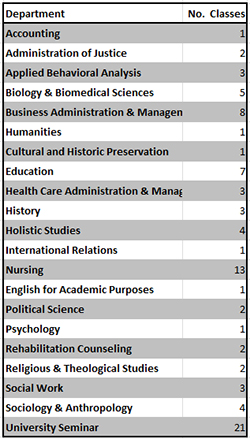 One of McKillop Library's primary missions is providing students with the research skills they need to thrive in a complex, information-rich world. To that end, librarians work closely with faculty members in all departments. Together, we bring students into the library, visit them in their classrooms, and work with them online to help them research course assignments, learn how to navigate the open web and the library's rich array of resources, and develop the knowledge and habits they need to be savvy researchers.
In the fall 2014 semester, librarians taught 73 information literacy classes, reaching 1,390 students. Plus, we dropped into 15 graduate classes to let them know about the library's services in 5 minutes or less, reaching 187 students.
Departments using the most library instruction last semester were Nursing, with 13 information literacy classes, and Business Administration and Management with 8 classes or drop-ins. Librarians also taught research skills to 21 sections of University Seminar.
GST083 – The research process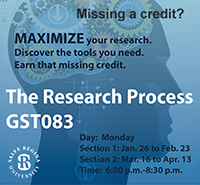 This 1-credit course offered each fall and spring semester focuses on the development of information literacy skills to enable college-level research and lifelong learning. The course seeks to engage students in the research process, allowing them to choose a research topic that may be related to other course work, their major, or just a personal interest. Students will learn to effectively and efficiently locate information, evaluate that information and its sources critically, and cite sources correctly to avoid plagiarism. After each class session, students will apply the lessons taught in the class in their homework, culminating in the final presentation of their personal research process. The skills learned in this course can be used across the curriculum and be directly applied to any research paper or presentation assigned.
This course may make an excellent addition to any student's program of study for many departments.
Blumen Collection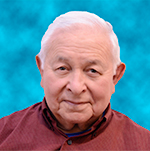 This special collection located on the third floor of the library provides not only resources on "a history on man's inhumanity to man" but also attempts to provide resources to facilitate a dialogue on "what is right." This includes topics on the right to die, humane practice in the medical field and law enforcement, humanizing man, and more.
Originally started as a holocaust collection with the generous donations of Dr. Joseph Blumen, M.D., the collection has expanded its scope over the past year through continued donations. It is Dr. Blumen's sincere hope that these resources will energize Salve community's scholarly conversation on the mores of how humanity treats itself in a technical world. See selected new arrivals from the Blumen Collection.
Tax preparation assistance Feb. 18th to Apr. 15th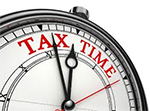 AARP is running tax preparation assistance for the local community on the first floor of the McKillop Library, facing the Wakehurst building. The tax assistance sessions will be open each Wednesday starting February 18th and will end towards April 15th, the end of the tax season from 1:00 p.m. to 5:00 p.m. This program will be run by the accounting students from Salve Regina who have completed the AARP extensive tax preparation course as well as passing the VITA/AARP advanced certification which then qualifies the preparers to do this work. The program will be open to the local public, Salve Regina students and staff. Everyone therefore is welcome to come. The process will include an interview followed by the preparation of the actual returns. No return is efiled or mailed without a review by the site coordinator, Robert Lobecker, or another appointee from the AARP. This is the first year this service has been offered at Salve Regina and we hope that the general public will be able to access and experience the delight of our campus and library facilities as well as have their income tax returns completed to their satisfaction.
Make proper citation easier: Try RefWorks or EasyBib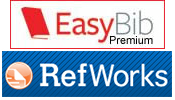 Would you or your students like to try an easier and quicker method for creating a bibliography? McKillop Library provides access to two subscription bibliographic management tools that assist users in automatically generating a properly formatted bibliography. A favorite of graduate students, RefWorks allows users to create an account, export citation information directly from the library catalog or research databases, save a list of citations, and automatically format a bibliography in your choice of styles. RefWorks also provides an additional feature called Write N' Cite, which allows users to integrate RefWorks with Microsoft Word in order to efficiently cite materials while writing a paper.
Popular with undergrads, EasyBib is a user-friendly way to generate citations in MLA, APA, or Chicago styles, and provides guidance on how to cite over 50 formats of material. EasyBib provides a convenient way to save a list of citations for future use, and also includes parenthetical note formatting. Librarians are available to provide individual or group instruction on how to utilize both RefWorks and EasyBib.
SciFinder Returns

The McKillop Library in co-operation with the Biology and Biomedical Sciences Department is once again hosting access to the database SciFinder. SciFinder provides quick and easy access to a wide array of research from many scientific disciplines and includes references from over 9,500 currently published journals, and patent information from more than 50 active patent issuing authorities. SciFinder also covers the latest scientific breakthroughs almost as soon as they are published with references added daily and patent information with just a two day delay. Most importantly, SciFinder provides complete coverage of chemistry and the life sciences including biochemistry, biology, pharmacology, medicine, and related disciplines. SciFinder also provides access to the world's largest collection of organic and inorganic substance information. To use the database first time users must register and create a user name and password. Returning users should login using their username & password. SciFinder can be accessed from the A to Z database list located on the McKillop Library website.