Bridging the Information Literacy Gap

This semester has brought exciting new faculty-librarian partnerships as a result of librarian led faculty workshops this summer. Librarians presented three workshops for faculty of the University Seminar 1 classes including Ethical Information Use, Integrating Library Resources into Your Course, Fair Use and Copyright and How to Design an Information Literacy Assignment. As a result, nine course guides have been created and fifteen library instruction sessions so far have been taught to UNV101 classes orienting students to McKillop Library's resources and focusing on the ethical use of information.

While this is a great beginning, we hope instruction will be expanded next semester to the University Seminar 2 classes as students embark on the information literacy skill of conducting academic research.

The introduction to information literacy in these core first year courses will lead us to pursue the next level of instruction in the second year. Second year courses within the Department of Religious and Theological Studies and the Department of Philosophy is the natural next step in which to offer research assistance as students begin more complex research within a specific discipline.

If you are interested in scheduling library instruction for your course, please complete our online instruction form. We look forward to continued partnerships.
Changes in Library Space
We are happy to announce that the Academic Center for Excellence, which includes the Writing Center, subject tutoring, Disability Services, English for Academic Purposes (formerly ESL) and learning skills support is now located on the 2nd floor of the library. Housed in a beautiful, comfortable glassed-in space, the center is open for business 8:30 am to 4:30 pm Monday – Friday, and tutoring is available 1-9 pm Monday-Thursday and 5-9 PM on Sunday.

The entire main collection (about 150,000 books) has been moved to the 3rd FL in compact shelves creating a gain in study space on the 2nd FL. What are compact shelves? Moveable shelves which allow a LOT of books to take up less space than conventional shelving. Come see the new space!
First Search & WorldCat Changes on the Way
OCLC recently announced that in 2015 they will launch WorldCat Discovery Services, a new suite of cloud-based applications that will bring FirstSearch and WorldCat Local services together. After July 2015, FirstSearch will cease to exist and be subsumed by WorldCat Discovery.

WorldCat is a global catalog of library collections maintained by participating libraries including materials from over 170 countries and over 72,000 libraries. You can search for books, journals, music CDs, DVDs, etc. Most recently, article citations with links to their full text were added.

Librarians will test the new WorldCat Discovery Services during the spring semester to assure that all features are fully functional with our existing services such as interlibrary loan and article linking capabilities. The earliest we would move to WorldCat Discovery Services is the fall semester of 2015. To learn more about this transition you can visit the OCLC website: http://www.oclc.org/go/worldcat-discovery.html.
From the Archives

This summer saw some significant changes in the University Archives & Special Collections. The Whitaker collection of over 11,000 LP records, as well as many boxes of objects from the Pell family, moved from storage into the main archives room, 023. It's still a work in progress, and the reading area has yet to be set up again. If you are interested in making an appointment to view archival materials, please contact the archivist to set up a time and you will be able to use the Munroe Special Collections Room on the first floor.

Speaking of the Munroe Special Collections Room, during the semester this comfortable and interesting space will be open at least one afternoon a week for students to study or to ask the archivist questions. Music from the Whitaker Collection will create a unique atmosphere to relax or get some work done. Typically, open archives hours will be Wednesdays 1-4, but check the archives Twitter, @SRUArchives, for updates, changes, or cancellations, and look for the sign outside Room 109.
A Celebration of Banned Books
Banned Books Week at the library was packed with events and activities celebrating our freedom to read. At our Banned Books Panel Discussion, Salve Regina senior James Mercurio moderated as Professors Sally Gomaa and Jon Marcoux presented. The discussion was framed by the effects of the government banning a classic in Egypt and the Spanish destroying almost the entirety of the written record of Mayan civilization. A lively discussion followed with probing questions by attendees.

All week students, faculty, and staff posed at the banned books mugshot photo booth. Our Twitter feed was peppered with a rogue's gallery of people who dared to read a banned or challenged book. We also celebrated banned classics of the past and today by holding a banned book trivia contest. Five winners walked away with their own copies of banned books. Students also made "I read banned books" buttons with the library's button maker to proudly wear their freedom to read. Students were also educated on why their favorite books had been banned at our interactive book displays.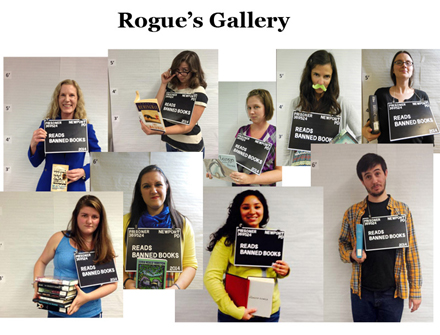 Technology in the Library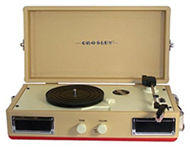 The library has a portable turntable for checkout at the circulation desk. Students can check the turntable out for up to a week. The Crosley Mini Turntable includes full range stereo speakers and an adjustable tone control. It is enclosed in a handy carrying case. The library also has a small collection of records available for circulation including Louis Armstrong, Ella Fitzgerald and the Grateful Dead. We also have iPod Touches, iPads, Sewing Machines and more items for checkout; see the "Items to Borrow" page for the full list of technology available in the library.

For questions regarding library technology, please contact Lori Barile, technology services librarian at lori.barile@salve.edu or 401-341-2237.