Collection Description
Physical Description:
536 items
Scope and Content:
The books have publication dates ranging from the late nineteenth to the early twenty-first century. Many were published in the Middle East and in some cases are inscribed to the donor by well known authors. The pamphlets and ephemera reflect the current responses by a wide range of organizations to questions pertinent to the Middle East at the time they were published. The ephemera demonstrate Mr. Auchincloss' immediate interests as he tore out pages from current publications ranging from the New York Times to Time Magazine.
Arrangement of the Materials:
The collection, in three parts, consists of:
books
pamphlets and ephemera
periodicals
The books are arranged in Library of Congress call number order. The periodicals are arranged alphabetically by title. The pamplets are in boxes arranged alphabetically by agency.
Access to the Collection:
The collection is currently housed in the Special Collections Room at the McKillop Library until such time as it can be moved to the Pell Center. There are no restrictions on access, except that the collection can only be seen by prior appointment.
Use of the Materials:
Although Salve Regina University has physical ownership of the collection and the materials contained therein, it does not claim literary rights to these materials. Consequently, the researcher has the additional responsibility of determining the owner of these rights and obtaining any necessary permission over and above that of the University.
Preferred Citation:
The Hugh D. Auchincloss Middle East Book Collection, Mr. Auchincloss, McKillop Library, Salve Regina University.
Send comments or questions about this collection to
University Archivist, Special Collections, 401-341-2276 or archives@salve.edu
Biographical and Historical Notes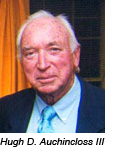 Hugh Dudley Auchincloss, III
was born in 1927 and has been a resident of Newport for all or part of each year since that time. Educated at Groton and Yale he developed a lifelong interest in the culture of the Middle East. Mr. Auchincloss served as a Marine in both World War II and the Korean War. Following his military service he studied at the American University in Beirut, and many of the books in the Middle East Book Collection, that were donated to the Pell Center of International Relations at Salve Regina, date from that time.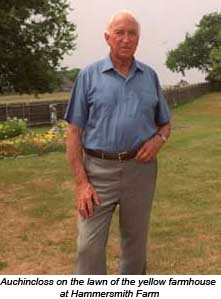 His understanding of the Middle East and his ability to speak Arabic led to a job with the World Bank and the Aswan Dam project in Egypt. Mr. Auchincloss had a brief but distinguished diplomatic career. In 1961, he served as a liaison officer of the United States Delegation to the United Nations and in 1961-1962 was an advisor to the U.S. Permanent Mission. He worked for many years in New York City as a Management Consultant before retiring to Newport. In 1988 Mr. Auchincloss received a Master's Degree in International Relations from Salve Regina.
Mr. Auchincloss was the step brother of Jacqueline Kennedy Onassis.