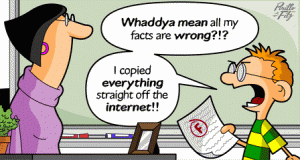 The C.R.A.A.P. test is a method for evaluating an information source based on the following criteria:
currency, reliability, accuracy, and purpose/point of view.
It is especially important to carefully evaluate information found on the Web. As you review your information sources, consider these questions:
Currency -

How recent is the information?
How recently has the resource been updated?
Is it current enough for your topic?



Reliability -

What kind of information is included in the resource?
Is content of the resource primarily opinion? Is is balanced?
Does the creator provide references or sources for data or quotations?



Authority -

Who is the creator or author?
What are the publisher's credentials?
Who is the publisher or sponsor?
Are they reputable?
What is the publisher's interest (if any) in this information?
Are there advertisements on the website?



Accuracy -

Where does the information come from?
Is the information supported by evidence?
Has the information been reviewed or refereed?
Can you verify the information in another source?



Purpose/Point of View -

Is this fact or opinion?
Is it biased?
What is the purpose of the information? Are they trying to entertain, inform, persuade, market a product, or teach?
Is the creator/author trying to sell you something?

The C.R.A.A.P. test was created by the Meriam Library
at California State University, Chico.
See also...
Five criteria for evaluating Web pages
by Cornell University Library
Evaluating Web pages: techniques to apply and questions to ask
by UC Berkeley
Evaluating websites
by University at Buffalo Libraries
Evaluating books
by University at Buffalo Libraries
Evaluating periodicals
by University at Buffalo Libraries
Searching Google
For more precise Web searching, try using
Google Advanced Search
which allows you to search within a site or domain. For example:
Adding .edu will limit your search to websites of accredited educational institutions.
Adding .org will limit your search to non-profit organizations.
Adding .gov will limit your search to government websites.
To search only a specific website, enter the url for that website in the "Search within a site or domain" box in Google's Advanced Search. For example, entering
http://www.who.int
into that box and then typing in your keywords will search only the World Health Organization's website for those words.
Other options in Google Advanced Search include phrase searching as well as searching for certain file types such as .pdf or Powerpoint (.ppt).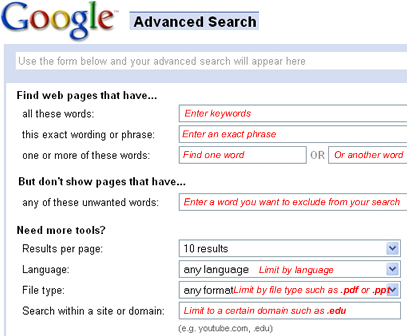 Need more help?
Ask a librarian
at 401-341-2289.