Working Together for Student Learning

Collaboration is a central component of the university's developing strategic plan. One of the library's goals is to strengthen partnerships between librarians and faculty to develop library instructional activities that will enhance the information literacy skills of our students. The longer-term goal is for all students to participate in a series of progressive research assignments throughout their four years that will provide them with the information literacy skills needed for lifelong learning and career success.

In this newsletter, we've highlighted two sample collaborations that have been successful for students, faculty, and librarians. We hope to work with you to reach the goal of increasing information literacy for all Salve students; please do not hesitate to contact us to discuss ways to integrate information literacy instruction into your courses.
Faculty/Librarian Collaborations
New approaches to improving students' research skills
University libraries across the US are experimenting with new approaches to improving students' ability to navigate the explosion of information resources available to them. One approach for promoting information literacy skills is to "embed" a librarian in a classroom, so that the librarian offers several short instruction sessions to the class over the course of a semester. At Salve, librarian Dawn Emsellem has collaborated with Professor Kiyomi Donnelly to teach information literacy sessions to English for Academic Purposes (EAP) students on topics including avoiding plagiarism, evaluating sources, using library databases, and locating sources.

According to Professor Donnelly, "Collaborating with Dawn to better support our EAP students to help them develop their information literacy has benefitted their learning process. Carefully crafted library instructions specifically to EAP students that create a non-threatening learning environment allow them to participate in student-centered learning activities comfortably. Integrating library instructions on understanding plagiarism into the course work in particular has been critical because concepts of plagiarism can greatly differ from that of their home countries... As they deepen their knowledge and become familiar with academic English, naturally they feel a stronger sense of being a member of the university community and that sense of belonging empowers them to further advance their academic career. As one EAP student stated after receiving library instruction, 'I lost my fear of asking questions!'"

In the EAP students' case, each of the three lessons were one full class session in the library classroom. However, librarians are also available to come to classrooms for shorter sessions on different topics throughout the semester. This model enables students to become familiar with a particular librarian who can answer follow-up questions and assist with research throughout the semester.
Nursing Department/Library Collaboration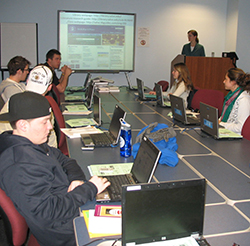 Another approach for promoting information literacy is to provide new students with an introduction to research strategies and library resources, which can offer a useful foundation for successful completion of future assignments. Nursing Department faculty members have worked with librarian Ingrid Levin to incorporate information literacy instruction into introductory level class NUR 150, with one session covering basic research skills and APA style citation, which is provided early in the fall semester for all these students. Nursing students also receive more in-depth research instruction in NUR 336 later in their time at Salve. These classes assist Nursing students in becoming familiar with discipline-specific scholarly materials important to their field. Librarians welcome the opportunity to collaborate with faculty to integrate information literacy instruction into classes, and will customize instruction based on specific topics or assignments.
Subject specialists
While all librarians can assist with research, we have subject specialists with expertise in particular subject areas. View our librarian liaisons to find a librarian who can assist you and your students with in-depth research.